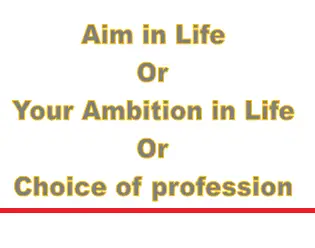 NB: This 'aim in life' essay contains 500 words.
Introduction:
Human life is the blessing of God. Life is a one-time offer of God and we should use it well. It should be spent on a great purpose, with a certain aim. So, aim in life means a specific goal or purpose of a person's life. It drives certain activities. If we want to lead a successful l life, we must have a clear and definite aim. The Poet Robert Louis realized it well.
Don't judge each
day by the harvest you
reap, but by the
seeds you plant.
An aim of a man strengthens him and provides a direction of his energies. But if a man chooses no aim in his life, he will cut a sorrow figure in the battle of life. Without an aim, life is like a desert where no flower blooms or like an envelope without an address. Without aim life will be useless, aimless and pointless.
Different aim:
There are many aims for a person to choose. Different people cherish different aim in their life according to their taste. Some want to be a pilot or military officer: others wish to be an engineer or doctor. Many wish to be a lawyer or teacher.  Some others want to be a businessman and some want to be a reporter or so on.
My aim:
Every man should have an aim in life. I have also an aim. My aim in life is to be a doctor. I have encouraged to make this decision from the idea of serving my villagers. I know choosing an aim in this cut-throat age of competition is really a difficult task. But, Becon said, "The mould of man's fortune is in his own hand". I realize this instruction strictly. My parents help me regularly to implement my aim truly in my life.
Why do I choose this aim?
There are, however, many reasons behind my choosing this aim. The best people are those who stretch his hand for the free service of the people. A doctor can do it. He can save human life and bring a smile in human face removing pains.  I have seen many poor villagers around me. They suffer from various diseases. They find no qualified doctor in the village for the good treatment of their disease. People die untimely for want of proper treatment. So, I have decided to serve my village people through my profession.
How shall I proceed/my plan:
Now I am a student of class seven. I am studying science subject very carefully. After passing SSC and HSC from science group with GPA-5 in all subjects, I shall get admission into a medical college. I know it is high challenging. For that reason, I am preparing myself with hard labour. After acquiring an MBBS degree, I shall go back to my village to serve the poor villagers.
 Conclusion:
Success in life depends on the proper choice of aim. My choice is right and my aim is fixed. So, I am optimistic that I shall fulfill my aim at any cost and make my life successful.
Advertisement
Aim in life essay Aim in life essay
Helpful essays :