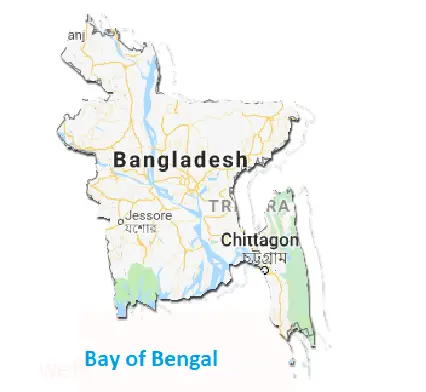 This paragraph contains 180 words.
Hints: Q: Where is Bangladesh located? When did she get her freedom? Where is the capital of Bangladesh? What are the different religions here? What are some of the customs and traditions that people follow? What are its main tourist spots? How do you feel about your country?
Answer:
Bangladesh is situated in South Asia by the Bay of Bengal in the south. The area of the country is about 147,570 sq km. Dhaka is the capital of Bangladesh. Bangladesh got her freedom from the Pakistani government on December 16, 1971. Bangladesh experiences a tropical monsoon climate with heavy rainfall and temperature. There are many rivers in Bangladesh. The main big rivers of the country are The Padma, the Meghna, and the Jamuna. The principal cash crop is jute and tea. The Sunderban is the largest mangrove forest in Bangladesh. The main occupation of the majority people is agricultural work. In Bangladesh, the main religion is Islam with 89.7% of the population. The remaining 10.3% are Hindus, Buddhists, and Christians. Bangladesh has some of its own customs and traditions such as own language, dress, food habits, manner of eating, the mood of behavior, games and sports, etc.  There are some tourist spots in Bangladesh.  They are the Sunderbans, the Shat Gombuj Mosque, the Buddhist Vihar, the largest sea beach at Cox's Bazer, etc. I feel nice to live in Bangladesh.
Related posts:
My favourite food and drink paragraph
My favourite sportsperson paragraph