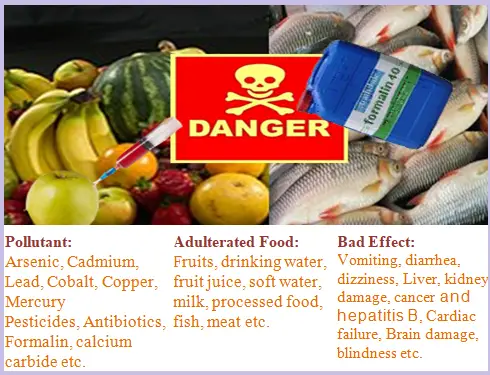 Question: Write a paragraph within 200 words on food adulteration.
Answer: (200 words)
Paragraph on food adulteration
Food adulteration means making food or drink less pure by adding or mixing another substance in it. Nowadays it has become a great problem in our country. Generally, the act of food adulteration is intentional. Some greedy or dishonest businessmen are involved in it. They want to increase their profit margin. They think their profit is more important than morality. In many ways, they use chemical substances with food and other things to reduce manufacturing costs. Even they use formalin to preserve food items for a long time. The use of formalin in food items may damage our liver. Artificial food color and flavour are given in many food items which may cause cancer. Water is given in milk. Brick dust is given in chili powder. Coloured chalk powder is given in turmeric powder.  There are hardly any food items from vegetables to milk, fish to meat; biscuits to juice that are not adulterated. The hotels and restaurants are also serving these poisonous and unhealthy menus to the customers. In many cases, the quality control department of the government remains silent. Government should take steps to minimize food adulteration of the country otherwise the people will suffer from various diseases.
Helpful link: