Database administrator is the central database related position.   All other positions of database such as architects, developers, programmers, operators etc. revolves around a database administrator to make overall success of database management. DBA (Database administrator) must work closely with Developers and Programmers in building a complete, well-integrated database system. In addition, a DBA must also work extremely closely with the Designer to bridge the gap from design to build implementation.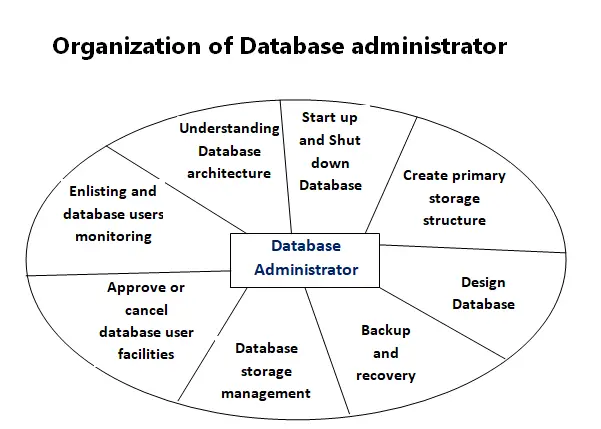 Position of DBA in the real world and salary
In the real world, we find talented people playing multiple roles. For example, one person might be a Designer, Developer/Programmer, and a DBA.  In some situation, one person is functioning as both a DBA and a SA. In other organizations, all the above professions are separate and distinct job positions. This is because, sometimes a company simply either cannot afford all the multiple positions relative to the company's size or the databases importance. Frequently, this trends to drive the potential salaries up for any single position.
Average salary range for database administrators and other related professionals for 2019 is as follows:
Duties of Database Administrator
A database administrator's duties can include the following tasks:
upgrading and installing the database server and application tool.
allocating system storage for the database system
planning storage requirements for the database system
modifying the database structure if necessary
Designing database both physical and logical depending on company demand
Controlling database start up and shut down as need
Enrolling users and maintaining system security
Ensuring database vendor license agreement
monitoring user access to the database
Optimizing and  monitoring the performance of the database
Maintaining backup and recovery strategy of database information
Maintaining archived data
Managing database objects
Backing up and restoring databases
contact with database vendor for technical support
Generating reports by querying from database as per require.
Monitoring and managing data replication
Acting closely with users.
Acting as overall advisor of Database
Related posts :